Historical News
Week of November 4 – 10, 2018
Water Column Clarity
Water clarity was measured at seven locations in the Providence and Seekonk Rivers on November 7, 2018. In the five days prior to sampling, 2.41 inches of precipitation was recorded, with 0.72 inches of rain falling on the day prior to sampling. In light of the recent rainfall, average water clarity decreased from the previous week, from 1.9 m to 1.1 m.
Decreases in water clarity were observed at Phillipsdale Landing, India Point Park, Pomham Rocks, Pawtuxet Cove, Bullock Reach and Conimicut Point. Water clarity increased at Edgewood Shoals. Secchi depth ranged from 0.63 m at Pawtuxet Cove to 1.50 m at Bullock Reach. A slight north to south water clarity gradient was present.
Week of November 4 - 10, 2018
R/V Monitor's Blog
​On Wednesday, November 7th, the crew of the R/V Monitor was out on the upper Bay collecting nutrients and plankton samples, taking Secchi Disk and Par sensor water clarity measurements, conducting water column profiles using the Seabird instrument, and conducting real-time surface mapping of water quality parameters, including dissolved oxygen, chlorophyll, water temperature, salinity, and pH, all in an effort to document water quality improvements associated with NBC construction projects.  Sara captained the boat while monitoring professionals Mike and Bekki collected the samples and data.  It was a clear and sunny day with wind out of the southwest, making the waters choppy.  The photo featured this day is of the Seabird instrument being deployed for a profile.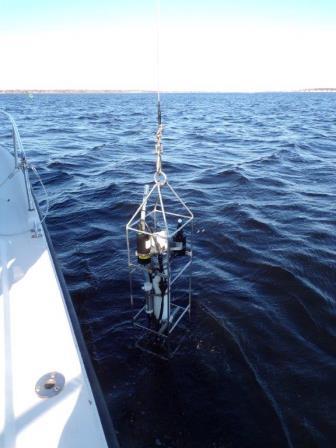 Week of November 4 - 10, 2018
Surface Mapping
Data was collected on November 7, 2018 while the R/V Monitor was underway collecting nutrient samples and performing vertical profiles in the Providence and Seekonk River estuaries. The chlorophyll concentrations were low in areas surveyed. From north to south, average chlorophyll concentrations were as follows: Seekonk River (3.37 µg/l), Upper Providence River (2.56 µg/l), Edgewood Shoals area (2.02 µg/l), Pawtuxet River area (2.69 µg/l), and the Lower Providence River (1.62 µg/l). Overall, chlorophyll ranged between 0.40 µg/l and 4.80 µg/l with an overall average of 2.29 µg/l. The chlorophyll data from this date is presented in the map below: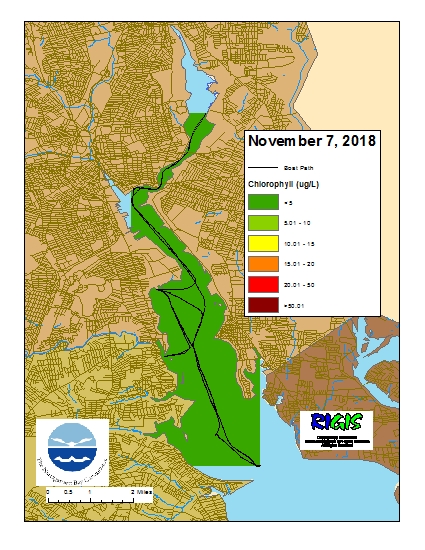 Week of October 21 - 27, 2018
Phytoplankton Sampling
Phytoplankton samples were collected at Bullock's Reach on October 24, 2018 and analyzed in the laboratory shortly after collection.
It was breezy and cloudy with an outgoing tide on Narragansett Bay. Sondes data revealed the surface water temperature was 13.29oC, salinity was 22.40 psu, and chlorophyll a was 2.3 ug/L.
The plankton tow net sample was filterable with a 20 micron mesh. The filtrate was very clear with small distinct groups of algae. Many jellyfish were detected in the sample.  The tow net sample was analyzed qualitatively for microorganisms using 100x phase contrast microscopy.
The whole water sample was analyzed quantitatively under 200x phase contrast microscopy. A Hensen Stempel pipette was used to accurately deliver 1ml of sample to a Sedge-wick Rafter chamber. This analysis revealed a total of 200,000 cells per Liter.
The most predominant phytoplankton was Skeletonema spp. at 104,000 cells/L.  The flagellates were found at 26,000 cells/L and other representative genera include Leptocylindrus spp. and Akashiwo sanguineum sp.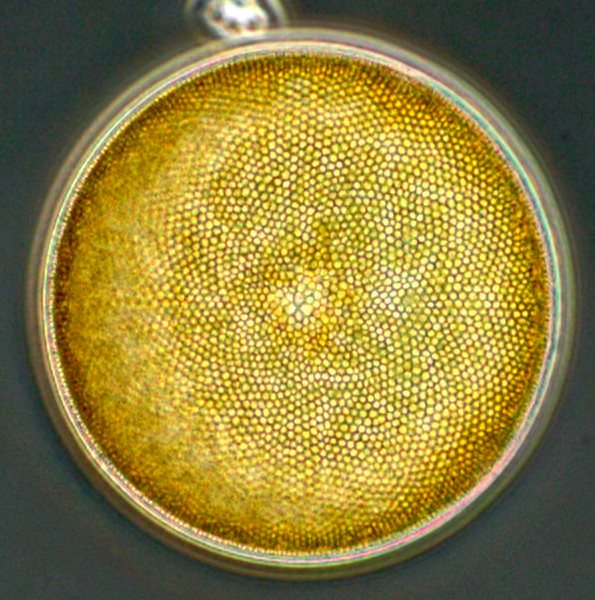 Week of October 7 – 13, 2018
Nutrients Sampling
Three bay stations and five river stations were sampled for nutrients on October 11, 2018. Surface waters were sampled at two bay stations, while both surface and bottom waters were sampled at one bay station. No precipitation was recorded in the five days prior to sampling.

Among the river stations sampled, highest total nitrogen (TN) and total dissolved nitrogen (TDN) values were measured in the Ten Mile River at Roger Williams Avenue, with reported values of 1280 ppb and 1290 ppb, respectively. The Moshassuck River at Higginson Avenue had the lowest TN (558 ppb) and TDN (499 ppb) values. DIN ranged from 326 ppb at the Moshassuck River at Higginson Avenue to 961 ppb at the Pawtuxet River at Broad Street location.

Among surface waters of the bay sites, TN ranged from 930 at Phillipsdale Landing to 1030 ppb at Edgewood Shoals. Phillipsdale Landing had the highest TDN and DIN values, with results of 870 ppb and 640 ppb, respectively. The lowest TDN concentrations (approximately 650 ppb) were observed at both Edgewood Shoals and Pomham Rocks. Pomham Rocks also exhibited the lowest DIN value, at 488 ppb. Chlorophyll a averaged 4 ug/L, ranging from 2.3 ug/L at Edgewood Shoals to 5.6 ug/L at Phillipsdale Landing.

Results from nutrient sampling completed on October 24 are pending final analysis from the NBC Laboratory. The next anticipated date of sampling is November 7, 2018.