Historical News
Week of July 19 – 25, 2020
Water Column Profiles
​Water column profiles were measured at six sites in the Providence and Seekonk Rivers on July 22, 2020. The NBC's Seabird profiling instrument was sent to the manufacturer for routine servicing over the winter; due to the COVID-19 pandemic, the return of the instrument has been greatly delayed. In the absence of this instrument, the NBC Environmental Monitors utilized a YSI EXO sonde to collect data on surface and bottom conditions at six typical Seabird sites on July 22. Settings on this instrument were not optimized for measurements of a true profile, rather the goal was stable estimates of conditions at the surface and bottom only. These data are summarized here, and raw data are available upon request. The three days prior to the survey date were mostly dry, with approximately 0.08 inches of total rainfall recorded. Most sites exhibited relatively well-mixed water column, though evidence of salinity stratification was observed at Pomham Rocks (bottom salinity 4 ppt > surface).  
Estimated surface salinities were highest at Conimicut Point, Bullock Reach, and Point St. Bridge (27 ppt), and lowest at Phillipsdale Landing (23 ppt). The highest estimated bottom salinity (31 ppt) was observed at Conimicut Point and Bullock Reach, while the lowest (27 ppt) was observed at Phillipsdale Landing. The warmest surface waters were observed at Point St. Bridge with 29.4°C, while the warmest bottom waters (24.4°C) were observed at Phillipsdale Landing. The coolest surface waters (25.3°C) were observed at Pomham Rocks, while the coolest bottom waters (21.9°C) were observed at Conimicut Point.
Dissolved oxygen (DO) concentrations were low at most sites this week. Hypoxic (i.e., DO <2.9 mg/L) conditions were observed at the bottom waters of all sites except for Bullock Reach and Conimicut Point.  Surface DO ranged from 1.8 to 4.2 mg/L across all sites. The estimated surface chlorophyll averaged 17.9 ug/L among all sites, with a maximum of 29.0 ug/L observed at Bullock Reach.
Week of August 2 - 8, 2020
R/V Monitor's Blog
​The R/V Monitor was out on the upper Bay twice this week. First, on Wednesday, August 5th, the crew was out collecting bacteria and chlorophyll samples, taking Secchi Disk water clarity measurements, conducting water column profiles using a profiling sonde, and conducting real-time surface mapping of water quality parameters, including dissolved oxygen, chlorophyll, water temperature, salinity, and pH, all in an effort to document water quality improvements associated with NBC construction projects.  In addition, the sonde on the Pawtuxet Cove temporary buoy was changed out.  The day was sunny, warm and humid. The water was calm but became choppy as time passed.  On Thursday, August 6th, the crew returned to conduct benthic video transects.  The transect at Edgewood Yacht club was ended halfway through due to poor visibility in the water column.  The transects at Bullock's Reach and Sabin Point were completed, as the visibility in the water was clearer. Jeff captained the boat while monitoring professionals Daryll and Mike collected the samples and data on the 5th and conducted the video transects on the 6th.  The weather was sunny and calm in the morning but turned partily sunny in the afternoon with a slight breeze out of the South.  The featured photo of some sailors was taken on the 5th at India Point Park.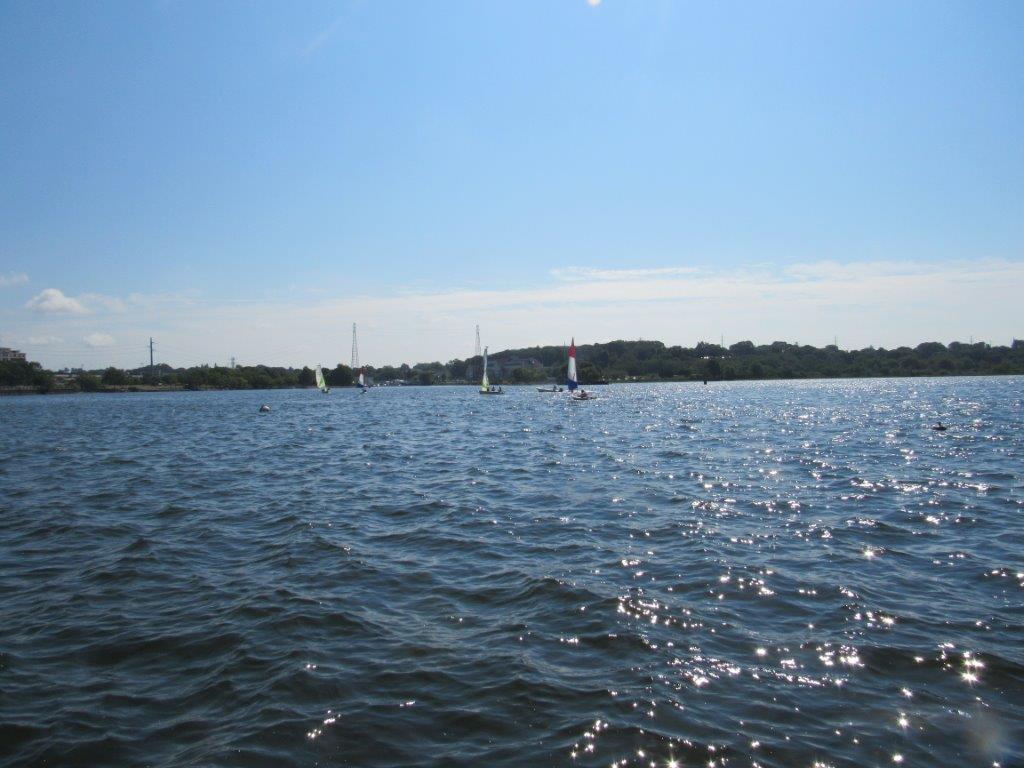 Week of June 14th – 20th, 2020
Nutrients Sampling
​Nutrient samples were collected at eight bay stations on June 17, 2020. In order to comply with local health and safety guidance regarding social distancing as part of the ongoing COVID-19 response, local and border river stations were not conducted this week. No rainfall was recorded in the five days prior to sampling.
Among the bay stations sampled, the highest nitrogen concentrations occurred at Pawtuxet Cove, located down river of the Field's Point WWTF. At this site, concentrations of total nitrogen (TN), total dissolved nitrogen (TDN), and dissolved inorganic nitrogen (DIN) were 1,110 ppb, 1,180 ppb, and 750.5 ppb, respectively. The lowest surface TN (448 ppb) and TDN (139 ppb) concentrations occurred at Pomham Rocks, while the lowest DIN (13 ppb) concentration occurred at Edgewood Yacht Club, Pomham Rocks, India Point Park, and Phillipsdale Landing.
Results from sampling on July 1 and July 17 are pending analysis. The next scheduled data of sampling is July 29.
Week of August 2 – August 8, 2020
Surface Mapping
​Data were collected on August 5, 2020 while the R/V Monitor was underway collecting bacteria samples in the Providence and Seekonk River estuaries. The chlorophyll concentrations were variable ranging from good to poor. From north to south, average chlorophyll concentrations were as follows: Seekonk River (18.90 µg/L), Upper Providence River (13.25 µg/L), Edgewood Shoals area (13.83 µg/L), Pawtuxet River area (11.65 µg/L ), and Lower Providence River area (7.76 µg/L ). Overall, chlorophyll ranged between non-detectable and 36.80 µg/L with an overall average of 13.31 µg/L.  The chlorophyll data from this date are presented in the map below: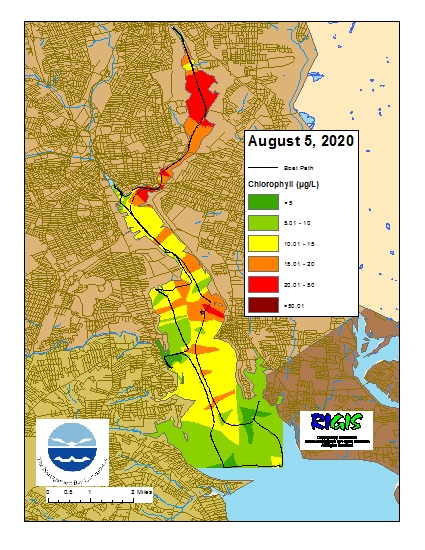 Week of July 26 - August 1, 2020
Fixed Site Network
Phillipsdale Landing
Water quality was poor to fair this week at Phillipsdale Landing; the surface sonde was periodically hung-up on old pilings on July 27 (~5 hours) and July 29 (~3 hours), and data from these periods have been excluded from the summary below. Despite 0.45 inches of rainfall on July 28, conditions at Phillipsdale Landing remained steady all week; salinity actually exhibited a slight increasing trend over the course of the week. Surface salinity averaged 20.7 ppt (range 14.6 – 25.9 ppt), while bottom salinity averaged 24.8 ppt (range 16.2 – 27.6 ppt). Water temperatures warmed since last week; surface temperatures ranged from 24.5°C to 30.2°C and averaged 27.0°C, while bottom temperatures ranged from 24.7°C to 27.7°C and averaged 26.1°C. Dissolved oxygen (DO) concentrations were hypoxic (<2.9 mg/L) in both surface and bottom waters for a portion of the week. Surface water DO averaged 7.3 mg/L with a minimum of 2.0 mg/L; surface hypoxia occurred primarily during early-morning low tides, for up to one hour at a time. Bottom DO improved slightly compared to last week, averaging 3.2 mg/L with a minimum of 0.8 mg/L; bottom waters were hypoxic for 48% of the week. Surface chlorophyll increased this week compared to last, averaging 52.2 ug/L with evidence of phytoplankton bloom activity peaking on July 26. Note that tidal fluctuations and Blackstone River flow greatly influence water column salinity, temperature, and DO at this location.

Bullock Reach
Sondes were changed out for maintenance on the morning of July 28. The newly deployed bottom sonde exhibited signs of excessive drift; the salinity data from this sensor have been excluded from the following summary, and the sensor is slated for replacement as soon as possible. Water quality at Bullock Reach was fair this week. Surface salinity increased slightly from the previous week, averaging 28.0 ppt and ranging 23.8 – 29.0 ppt. Salinity at the mid and bottom sondes averaged 29.1 ppt and 30.3 ppt, respectively. Water temperatures also increased slightly, averaging 26.5°C at the surface, 25.7°C at the mid depth, and 23.6°C at the bottom. Surface waters remained above the hypoxia threshold this week, with a DO minimum of 5.0 mg/L. Hypoxia was observed in mid waters, averaging 5.6 mg/L but reaching a minimum of 2.3 mg/L; mid-water hypoxia was limited to two half-hour periods mid-day on July 30. Bottom water DO averaged 3.4 mg/L with a minimum of 2.1 mg/L; bottom hypoxia occurred periodically, for up to approximately two hours at a time. Please note, calculation of DO in mg/L utilizes information from the salinity probe; as a result of the drift in the salinity probe, bottom DO readings may have been impacted during this reporting period. Chlorophyll was similar this week to last, averaging 11.8 ug/L at the surface and reaching a maximum of 66.1 ug/L; evidence of highest phytoplankton activity occurred on July 30. Mid-depth chlorophyll averaged 10.9 ug/L, while bottom chlorophyll averaged 7.5 ug/L.